9 in 1 Pushup Board Complete Body Workout
9 in 1 Pushup Board Complete Body Workout
Regular price
₹ 1,999.00
Sale price
₹ 999.00
Poeple
are viewing this right now
Get it between
Jul 10
Jul 12
Guaranteed safe & secure checkout
STAY FIT, ANYWHERE, ANYTIME
 
With the Alpha Push-up Board, you can bring the workout home! Our color-coded muscle targeting system makes it easy to use and perfect for any fitness level. The Alpha Board promotes proper form to ensure you get the most out of your workouts and maximize your upper body definition.
Foldable & Portable
Portable, simple assembly and storage, with non-slip grips is more comfortable and safer for exercise, non-slip round pads make the push up plate more stable. Easy to use, just plug the handles to the desired position. Very convenient, you can use in room, gym, outdoor and so on.
DO NOT DO THIS…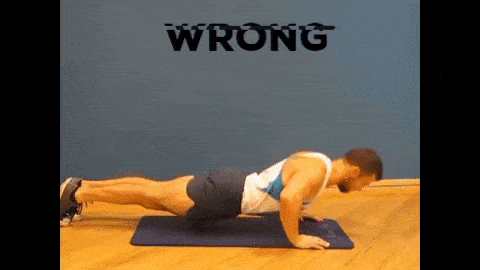 DO IT THE RIGHT WAY...
NO WEIGHTS. NO GYM. NO PROBLEM.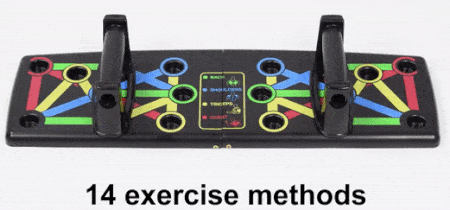 Color-Muscle Match Up
❤️Red > Shoulders
💚Green > Triceps
💙Blue > Chest
💛Yellow > Back(Stabilizing)
Suitable For Any Fitness Level

TARGETS YOUR UPPER BODY: 9 in 1 Push Up Rack Board is an innovative, complete push-up board training system that strengthens and sculpts your chest, shoulders, back, triceps, biceps, and core. The revolutionary color-coded push-up positions allow you to plug and press for extreme results. It also promotes proper form to maximize your workout.
MULTIPLE POSITIONS & ANGLES, BETTER RESULTS: This power press push up is a versatile color-coded push-up board system. It maximizes upper body strength and definition. The multiple preset positions promote proper form and sculpt strong lean muscles. Mix and match various positions for a more challenging workout.


REACH WORKOUT GOAL: You can build up a strong, and flexible body with this workout equipment. Reach your goals no matter, if you are a beginner, intermediate, or advanced athlete.
PORTABLE WORKOUT SPACE: You can build supreme quality indoor and outdoor workout parks for public or private space. this features a foldable and portable design that you can conveniently carry the push-up board everywhere. You can simply assemble, and Store it in the backpack.
BURN CALORIES: Burn your calories, and build a solid body with this innovative pushup system. It leads you through a total-body strength and conditioning workout.
NON-SLIP RACK BOARD: With its Increased friction, it reduces the possibility of slipping. Do your workout with more safety with no slipping!
Our premium comfort hand grips are specially designed to be ergonomic and help reduce strain on your shoulders, wrists, and elbows caused by traditional floor push-ups. Workout without the fear of injuring yourself!
SCULPT ENTIRE UPPER BODY: 9 present positions with different angles promote proper push-up form allowing you to shape the muscle of the upper body effectively and efficiently.
BE YOUR OWN PERSONAL TRAINER: Quit paying trainers and save up to $5000 per year. The easy to follow color-codes provides you with the professional guidance required to achieve your workout goal at home. Put in the work, follow the color guide and you cannot go wrong.
PUSH YOUR LIMIT TO UNLEASH YOUR POTENTIAL: There's more than one push-up you can do to develop the same muscle group. Challenge yourself to more advanced push-up by switching angles within the same color-code to maximize your workout performance.
Similar products
Customers who viewed this item also viewed